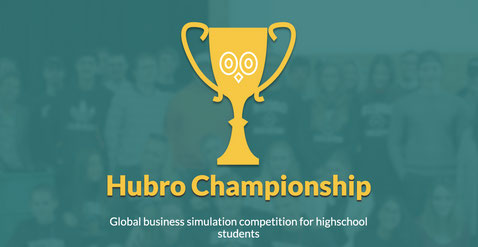 The New World Champions in Hubro Championship
St Olav VGS and Al Khor International School are Hubro World Champions 2021! A great achievement - beating 1,000 other students from 110 different schools and 25 countries!
After 5 qualification rounds, teams Flyco and Dirana Tech from each respective school came out on top. This year's Hubro Championship was the first year we have gone global and it is so exciting that we have a 'home team' and a school from over 6,000km in Qatar crowned as our champions.
Let's take a look at their journey to the top!
St. Olav's journey to success in Hubro Business
Jonas, Vilde and Henrik from St. Olav VGS made up team Flyco in Hubro Business simulation. After showing off their ability for long-term decisions and strategies in their qualifying round, they were heading into the final with great footing. They met some tough competition in the final, running a really close race with TechnoPilot from Po Leung Kuk Choi Kai Yau School in Hong Kong.
As the equity graph for the business simulation shows, each team took the lead throughout the round. Flyco managed to build a narrow lead in the last 2 quarters which saw them take the title by quarter 9 and the end of the simulation. As in the qualifying round, it was planning long-term decisions and a solid strategy that saw them do well!
These long term decisions were also balanced with a great focus on the key ingredient to success: margins! By balancing their margins and gaining a steady increase in income, they were able to continue their growth. An honorable mention goes to Technopilot who put up a real fight until the end!

Congratulations to Flyco and St Olav VGS! And thank you to all the teams participating in the Hubro Business category over all rounds.
The final results for all teams in the Hubro Business simulation final
Want to learn more about Hubro Championship?
Al Khor's journey in Hubro Marketing
Rashida, Diya and Nawal from Al Khor International made up the team Dirana Tech in the Hubro Marketing simulation. It was a close race at the start but that soon changed. From quarter 6 Dirana Tech really gained momentum and a lead.
As you can see from the insights below, it was a really impressive performance by the team. Which is made even more so by the fact that they had never played Hubro before the Championship!
Not only did Dirana Tech maintain growth and balance their margins, they managed to do this consistently and win by a huge margin. They showed a really clear understanding of the marketing mix and the importance and impact of each decision they made in the marketing simulation. In combination with keeping a close eye on their financials, they gained a much deserved win.
Really impressive stuff, we are looking forward to welcoming them back to defend the title in 2022!
The final results for all teams in the Hubro Marketing simulation final
Explore more of our blog for business education, educational business simulations and remote teaching methods.
Back to the blog