Invaluable learning experience
With the Hubro Business simulation learners connect business concepts to gain a big picture understanding. Today, educators in more than 30 countries offer this with the business simulation game.
Many students never get a proper understanding of how operations and financial statements fit together. I think Hubro Business Simlation makes these connections practical and completely clear to them.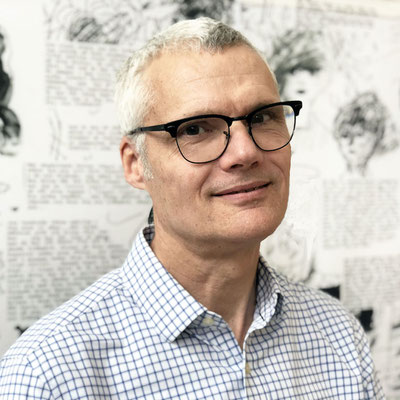 Bo Karlsson
Professor, industrial management at KTH Royal Institute of Technology
A big benefit of Hubro Education's simulations is the flexibility. You can customize the simulation to your course by adding exercise modules that focus on certain parts of the syllabus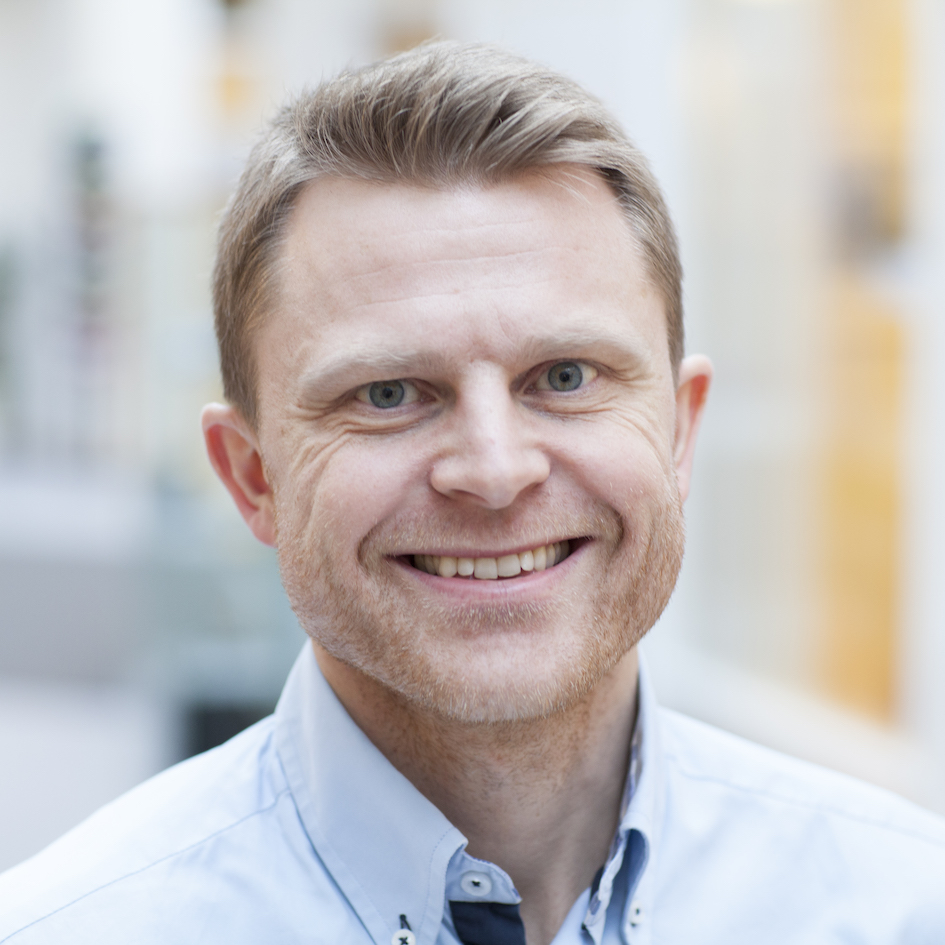 Per Ståle Knardal
Professor, Financial Accounting at NTNU Business School
The business simulation has been an eye opener for both how relevant the theory was in prior courses, and how little I understood before the problem was in front of me in the simulation. That was a valuable experience!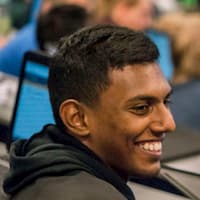 95%
of more than
80 000
users recommend using the Hubro Business Simulation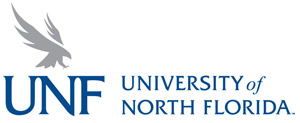 Enter the Hubroverse
In the futuristic market of the simulation, personal transportation has evolved and people are now using jetpacks to get around. The learners will run their own jetpack manufacturing in a market where they compete against their peers or companies run by the Hubro AI.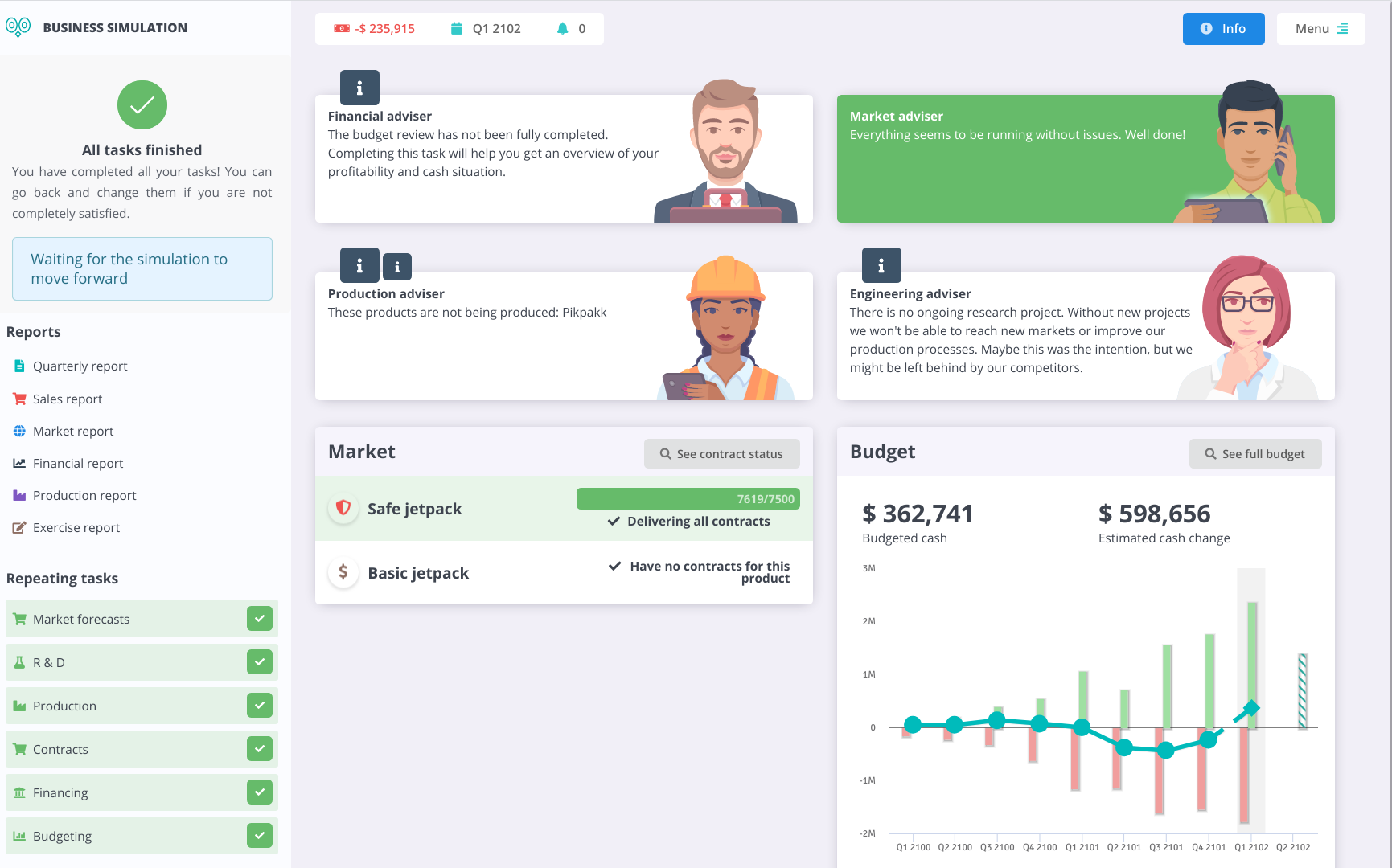 Immediate feedback on performance
Participants get immediate feedback from in-game advisors, guiding them to where they need to adapt their decisions and strategy. They suggest improvements, and notify you when things are off track.
Data-rich, visual reports
Practicing data-driven decision-making with reports. Participants get a host of data on performance and the market, including a quarterly summary, sales, market, financial and production reports. As they analyze the information, they leverage it to make better, more sustainable decisions.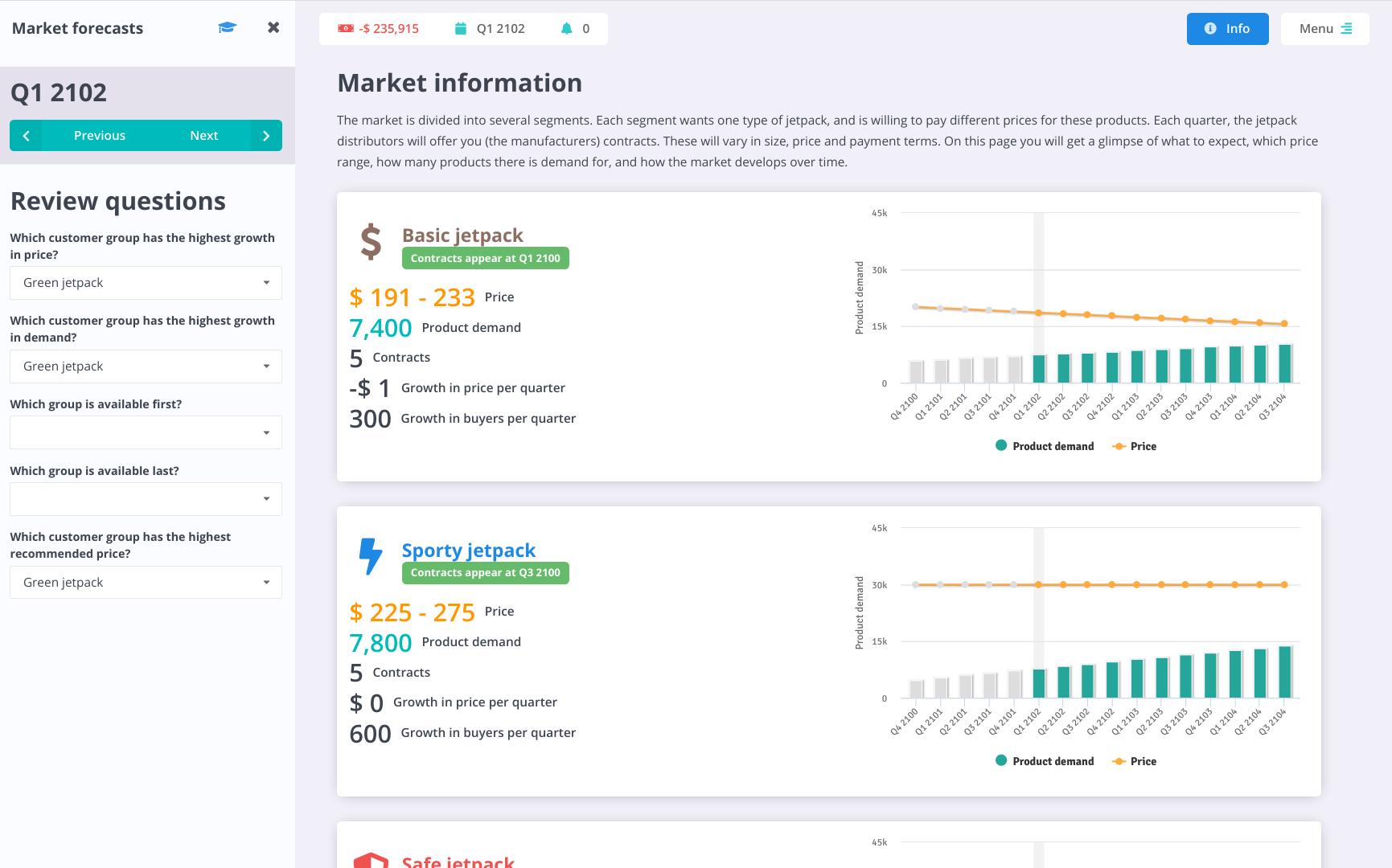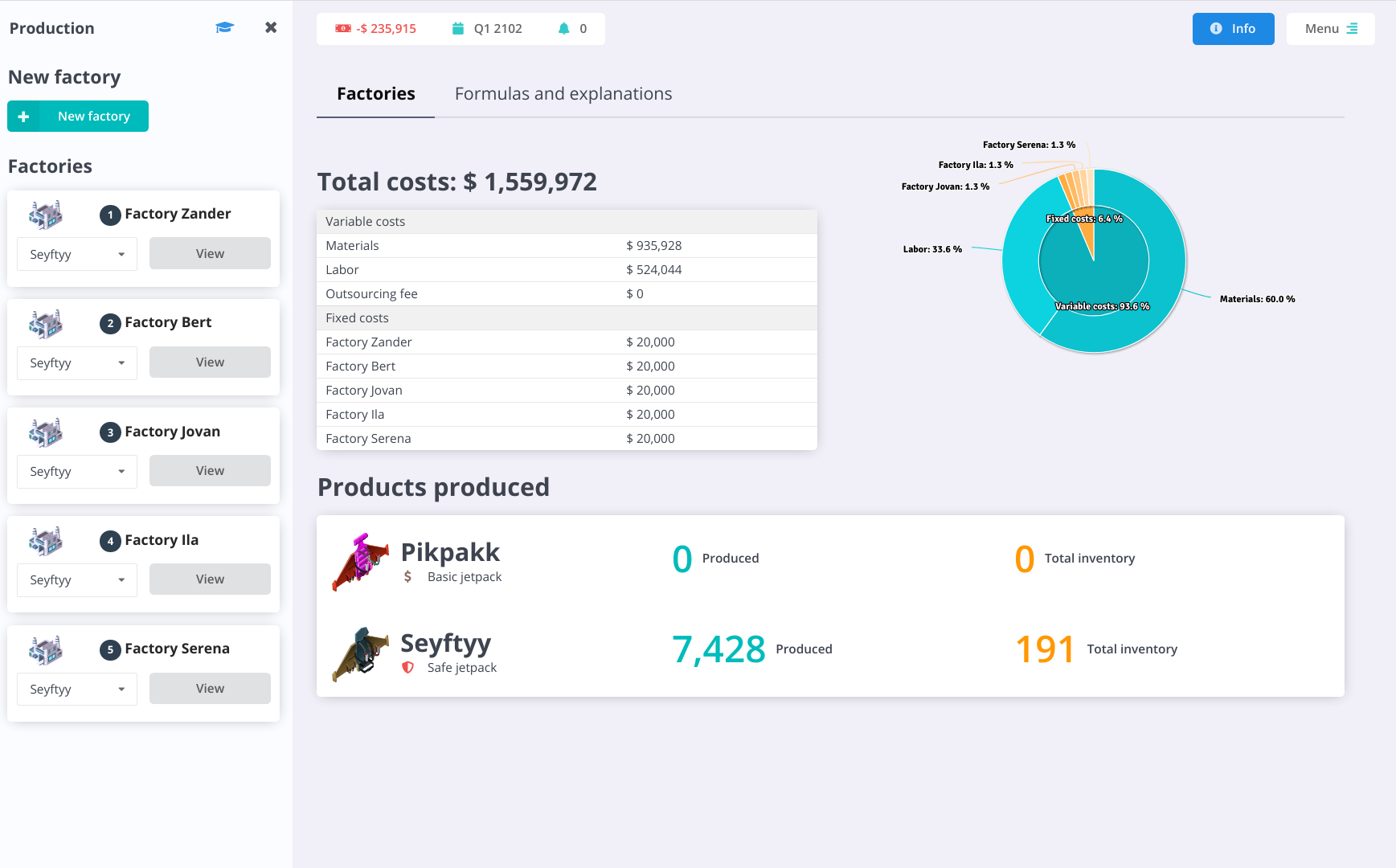 Critical business decisions
Make real business decisions that will impact the company for years. Using the information from the reports and market data, participants complete tasks within market forecasting, R&D, production, contracting, financing and budgeting.
Learning outcomes in the Hubro business simulation
The Hubro Business simulation gives learners the opportunity to work with key business concepts. They call the shots - making real business decisions that determines their success.

Decision making
Participants have to make many decisions in the simulation, like whether they should buy or outsource factories, invest in new products or cost-cutting, and which contracts they want to deliver on.

Cash flow
Participants work to maintain and control the cash flow of their company. They make decisions on whether to withhold profits, apply for loans, or liquidate assets.

Investment analysis
Participants have the data they need on demand and expenses to consider which projects will be the best investments. The simulation is a brilliant way to put this business skill to the test in a safe environment.

Budgeting
Participants create budgets to put numbers to their decisions. Throughout the simulation they compare their accounting with their budgeting to learn from their deviations.

Strategy
Participants create both long-term and short-term strategies, making them connect the dots between disciplines like accounting, operations and finance.

Product mix
There are several product lines that can be developed and produced in the simulation. Participants must consider demand, costs and strategy when they set their product mix.

Accounting
The simulation can automatically set up P&L statements, balance sheets and cash flow statements, or instructors can set it to manual and have participants do the bookkeeping themselves.

Product calculations
Participants must think about the volume of their manufacturing with regards to both cost and market demand.
A business simulation that fits your course
Whether you're in the corporate or educational space, the Hubro Business simulation is adapted to your course to meet your learning goals. Flexible and customizable, our simulations set both you and your learners up for the best possible learning experience.
Higher Education
Intro to Business
Managerial Accounting
Business Management
Financial Accounting
Microeconomics
Corporate Training
Business Acumen
Business Strategy
Business Finance
Sales and Marketing Efficiency
Improving profitability
Secondary Education
IGCSE/A-Level/IBDP Business Studies
Introduction to Accounting
Entrepreneurship
Don't see your course here? No problem, the simulation is designed to fit your course, not the other way around.
How other educators use Hubro Business Simulation
No two courses are exactly the same, so we've made it easy to make your own unique setups for Hubro Business Simulation. Customize the simulation with content, activities and configurations to make it a great fit for your schedule and syllabus.
Technical requirements
No installation required
The simulation requires only an internet connection and a modern web browser.
Multiple devices
The simulation is designed to work on desktop, mobile and tablet screen sizes.
Supported browsers