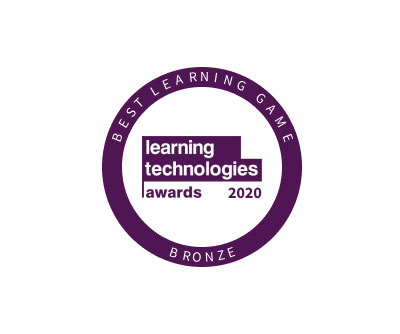 More international recognition for Hubro Business simulations
Hubro Education is delighted to announce that we have won an award for 'Best Learning Game' at the 2020 Learning Technologies Awards. Hubro Business simulations received Bronze in the category. An achievement we are hugely proud of being in a category amongst the likes of Google and Oxford University!
Although of course unfortunately there was no gala to attend this year, the online award ceremony was a fantastic celebration. There were over 500 entries across 26 categories including some huge names in the industry!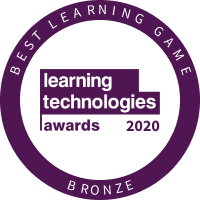 How our business simulations were nominated
The Learning Technologies Awards are a big date in the calendar within the ed-tech industry. We were keen to be included in the awards and put Hubro business simulations in the running.
Firstly we submitted a written application and the judges tested the business simulations. After these had been judged, we were shortlisted into the final 8 for our category of 'Best Learning Game'.
The Best Learning Game shortlist
We were up against some really tough competition. Included in our category shortlist were learning games from Google, Oxford University, BT, and the World Steel Association to name a few.
Of course we knew we were worthy contenders and were excited to present our business simulations. It was also a great opportunity to connect with likeminded people in the industry.
Presenting our business simulations to the judges
This stage saw our CEO and co-founder Emil present to a panel of judges via Zoom. This was a great opportunity to talk more about the simulations and to present Hubro's story, and feedback from our users across the world.
It was a great session and the judges gave some great comments. After this 35 minute presentation, it was a waiting game!
Let's find the perfect simulation for your course
Contact us
Winning in the Best Learning Game category
On the 18th of November, we tuned in from our respective apartments to the live online awards ceremony. We were going to find out if we had been successful on the night.
And luckily it was good news. Our business simulations won bronze in the category. We are so pleased with this achievement and eagerly await our trophy's arrival in the post!
We would like to extend our thanks to the team at the Learning Technologies Awards, particularly in an unprecedented year. We thoroughly enjoyed the process and would like to give special thanks to the judges who saw what we see in our business simulations.

Read what the judges said below:
An impressive, if at times complex, serious business game. It really does feel more like a proper simulation rather than a game but there is clearly a lot of learning embedded in the platform. Due to time constraints, as a judge it was quite hard to really explore the simulation in detail but what elements the judges did experience were really well thought through. The tutorials were especially helpful and the turn based nature was clear and worked well. The fact that teams can compete on the platform also adds interest and engagement. This was a very strong entry.
You can learn more about our multi-award winning business simulations here:
About the Learning Technologies Awards
The Learning Technologies Awards is an international scheme that has been celebrating outstanding learning technologies for 16 years. They are open to anyone worldwide, no matter what the size of the organization, and showcase some of the most recognizable, memorable, and life-changing learning technologies and e-learning around.
The Learning Technologies Awards are independently judged and receive hundreds of entries each year. Categories cover innovations, projects, design, games, simulations, social media, mobile technologies, onboarding, and blended learning, as well as awards for outstanding individuals, teams and organizations.
Explore more of our blog for business education, educational business simulations and remote teaching methods.
Back to the blog