What is a business simulation?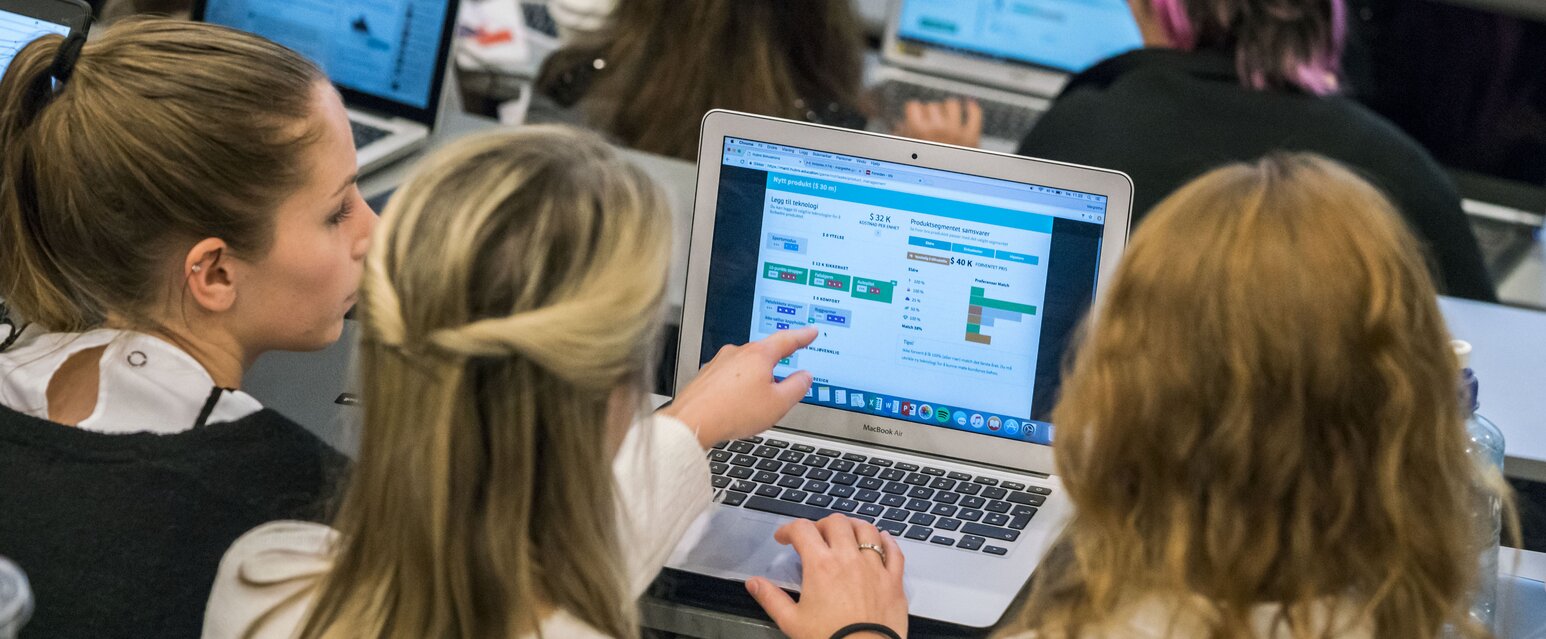 A business simulation is an experiential learning tool where participants run a virtual business in a simulated environment. The simulation game lets users practice real-world skills in a realistic and risk-free setting that creates an interactive and fun learning experience.
This interactive learning experience is successfully used by schools and universities as well as in corporate training. In both cases users practice skills ranging from market and financial analysis, to decision making and improved teamwork. This way of learning by doing is a proven method for both students and employees to really understand the complexities of running a business.
Business simulations can provide a more valuable learning experience compared to static case studies and lectures. A business simulation keeps the users engaged through discussion, strategizing, analysis and teamwork as they have to deal with the consequences of their business decisions. The result of this is a higher level of learning made possible with business simulations. Something that would not be achieved with static learning methods for business education.
Why business simulations?
Here are the main reasons for why you should use business simulations

Experiential learning - put theory into practice
Participants achieve the learning goals by putting business theory into practice, gaining valuable skills ready for the workplace.

Realistic and risk-free environment
As in a flight simulation, learners can imitate reality and practice specific skills without any risk. Whether it's interpreting financial statements, making budgets, making complex decisions or analyzing a situation, you can practice it and fail safely.

Big picture
Participants see the big picture as decisions made in the simulation affect all aspects of their business, allowing them to connect the dots and take a holistic approach to decision making and problem solving.

Higher level learning process
By using an experiential learning cycle framework we enable a higher level learning process. First off the learner would have an experience running a business. Secondly, they would need to review and analyze this experience. Thirdly, they would learn from their assessment, and use that learning experience to try out what they learn by continuing their experience.
Knowledge retention and established learning science
To be able to enable a higher level of knowledge retention, a learner would need an elevated level of learning activities. Business simulations can do exactly this as learners can apply what they have learned, and in the end evaluate and create within the simulation. This goes back to the learning model depicted in Bloom's Taxonomy.

Soft skills development and collaborative learning
The users develop soft skills when working in the simulations, as it requires teamwork, time management, leadership, communication and problem solving skills. The teamwork leads to collaborative learning that enables a universal understanding of the topic. Simulations naturally spark discussions amongst learners, and give them a common experience of the concept.

Engagement
Business simulations are both social and interactive as participants experience the responsibility of running their own business. Paired with gamification elements like competition and missions, simulations are powerful tools that make the learner want to participate and learn.

Flexibility
Business simulations can be delivered in a live classroom, a virtual one, as an e-learning module, a business challenge, or in a hybrid learning environment. We work with schools and companies that are using our simulations virtually, across several time zones at their preferred times.
Who can use business simulations?
Business simulation games are being used by schools and universities, businesses and corporations, and individual learners. Essentially, by those who want or need to learn more about how to run a business.
Hubro's business simulations can be modified to fit the level of complexity you need. You can add various exercises and functionalities to make sure participants are challenged and get the most learning out of the business simulation.
Are you an educator, corporate trainer or interested in learning more about business? Take a look at the page that fits your needs, and learn how you can get started with business simulations.
Universities and schools
Improve engagement and student learning outcomes with Hubro's business simulations.
Educational solutions
Corporate training
Help employees improve specific skills with business simulations suited to your corporate training program.
Business solutions
Play on your own
Run your own virtual business in our business simulation platform. Train your business acumen against robots.
Individual solutions
How to get started with business simulations
It's simple to get started with Hubro business simulations. As an educator or corporate trainer, all you need to do is to select a simulation of your choice, enroll your participants and run the simulation.
Our off-the-shelf business simulations require minimal set-up as you do not need in-depth training to understand the platform. It is created to be as easy as possible for you to successfully run a business simulation focusing on the learning outcomes, rather than the technicalities.
The simulation can be delivered both as an online activity and in a classroom. Your participants can play in groups or by themselves as a synchronous classroom competition or as a self-paced practice at home.
Learn how you can use business simulations in your classroom or corporate training programme on our how it works page.
Let's find the perfect simulation for your course
Contact us
Our Online Business Simulations
Choose one of our business simulation games, and set it up to fit your course's schedule and learning goals.
Business

Simulation

Run a production company in a group, in direct competition with other students. Manage production, investments, pricing and financing of a virtual company to get hands on experience.
Learning goals
Decision making

Product calculations

Accounting and budgeting

Investments

Much more
See Business
Marketing

Simulation

Analyze the market segments, develop your marketing mix and create a product that fits customer needs. Compete directly with other companies to grab the attention of the customers.
Learning goals
Segmentation

Marketing mix

Market strategy

Market analysis

Much more
See Marketing
Finance

Simulation

Find the best way to finance company investments, make impactful, long term decisions and develp the most valuable company while creating value for your shareholders.
Learning goals
Investments

Valuations

Financing

Capital structure

Much more
See Finance
Strategic Marketing

Simulation

Develop your own restaurant brands, and launch them into the market according to your strategy. Choose where and how to promote your brands to appeal most effectively to your target segments.
Learning goals
Strategic thinking

Customer satisfaction

Digital marketing

Brand management

Much more
See Strategic Marketing
New!
Sustainable Business

Simulation

The Hubro Sustainable Business simulation will give your learners an engaging learning experience that shows how sustainability intersects with financials, strategy and operations.
Learning goals
Strategic thinking

Environmental sustainability

Social sustainability

Financial sustainability

Much more
See Sustainable Business
Bespoke simulations
We create tailor-made simulations that fit your exact needs in addition to our standard products. Get in touch with us and we can discuss your simulation needs.
Contact us