Learn how to run a business with our business simulation games
Learn how to run a business with our award-winning business simulations. Our simulations are developed with and trusted by educators around the world.
Get hands on experience with the basics of how to run a business. Whether you want to start a business one day, or just want to get some experience before you enter the labor market, Hubro's simulations are a great place to get realistic experience.
See our products
Get started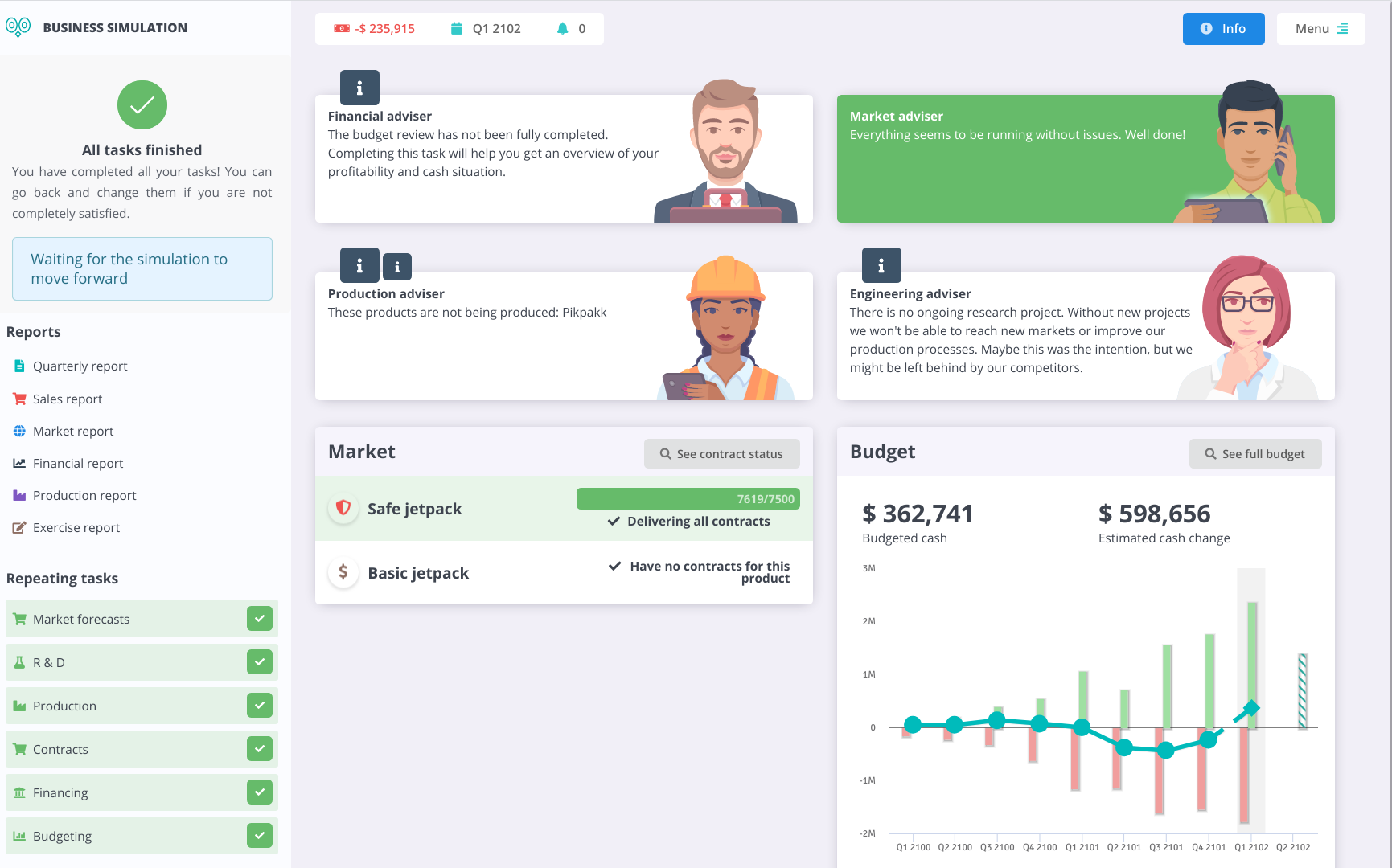 Learning from experience with business simulations
One of the most recognised and valuable ways of learning is through experience. Experience what it's like to run a business, and see your decisions play out with Hubro Business simulations.
Take control of your own virtual company. Compete for market shares, become profitable and grow your equity. Our business simulations let you develop essential business skills that can only be developed through learning by doing.
Run your virtual company
Run your own jetpack company. Acquire managerial skills as your company grows and becomes profitable. Learn the basics of what you need to keep in mind when running your own business.
Gain business skills
Acquire essential business skills through experience. Gain understanding of the dynamics in a company and understand how different functions are connected. You will uncover skills such as management, marketing, operations, accounting and finance.
Receive a certification
You will receive a certificate of completion after staying the length of the simulation. This certificate recognizes that you have developed business skills from award-winning business simulations, that are trusted and developed alongside recognised professors and teachers.
How it works
You will get access to run a virtual business for 6 months. In the simulation you run the company a quarter at a time, with one quarter taking half an hour.
To get started:
1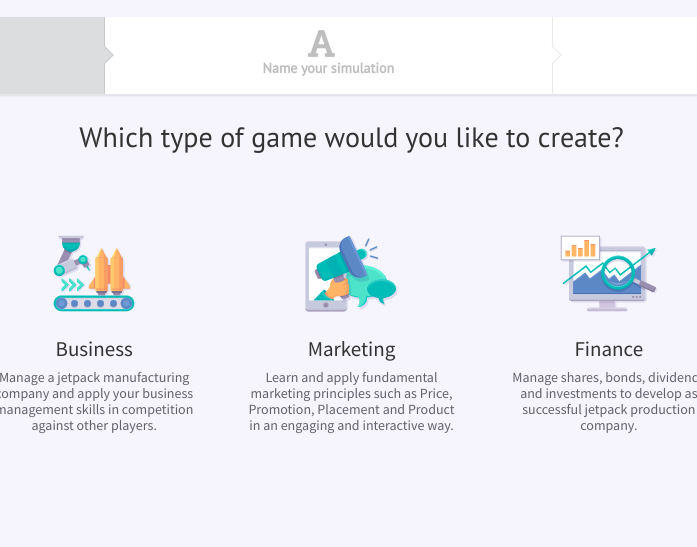 Choose simulation
Choose between the managerial business simulation or the commercial marketing simulation.
2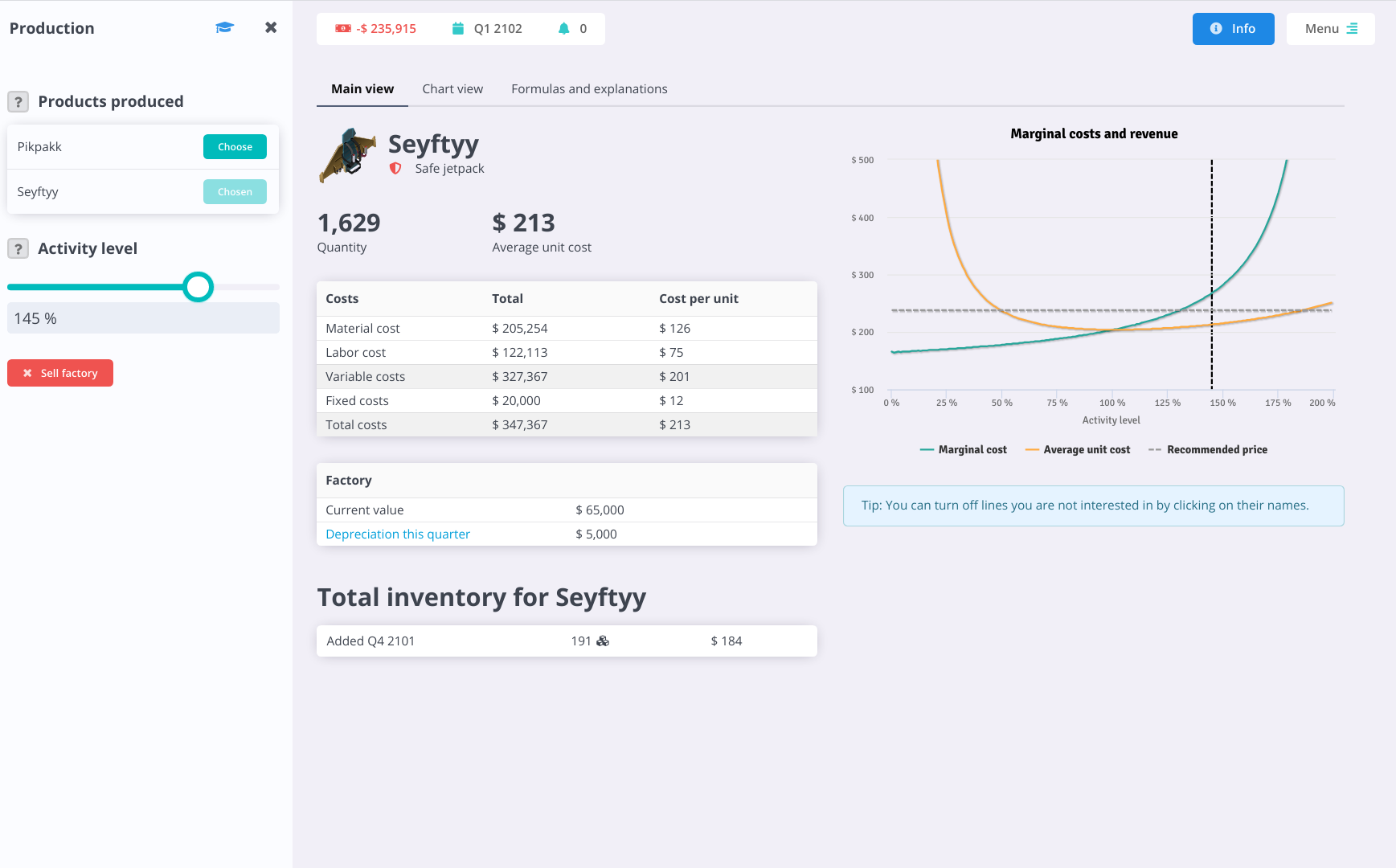 Play the simulation and run your company
Make business decisions and work your way to the top by being as profitable as possible across 12 quarters. This way you'll get the most equity and beat your competitors. On the way you'll be introduced to new concepts and get exercises to develop your understanding.
3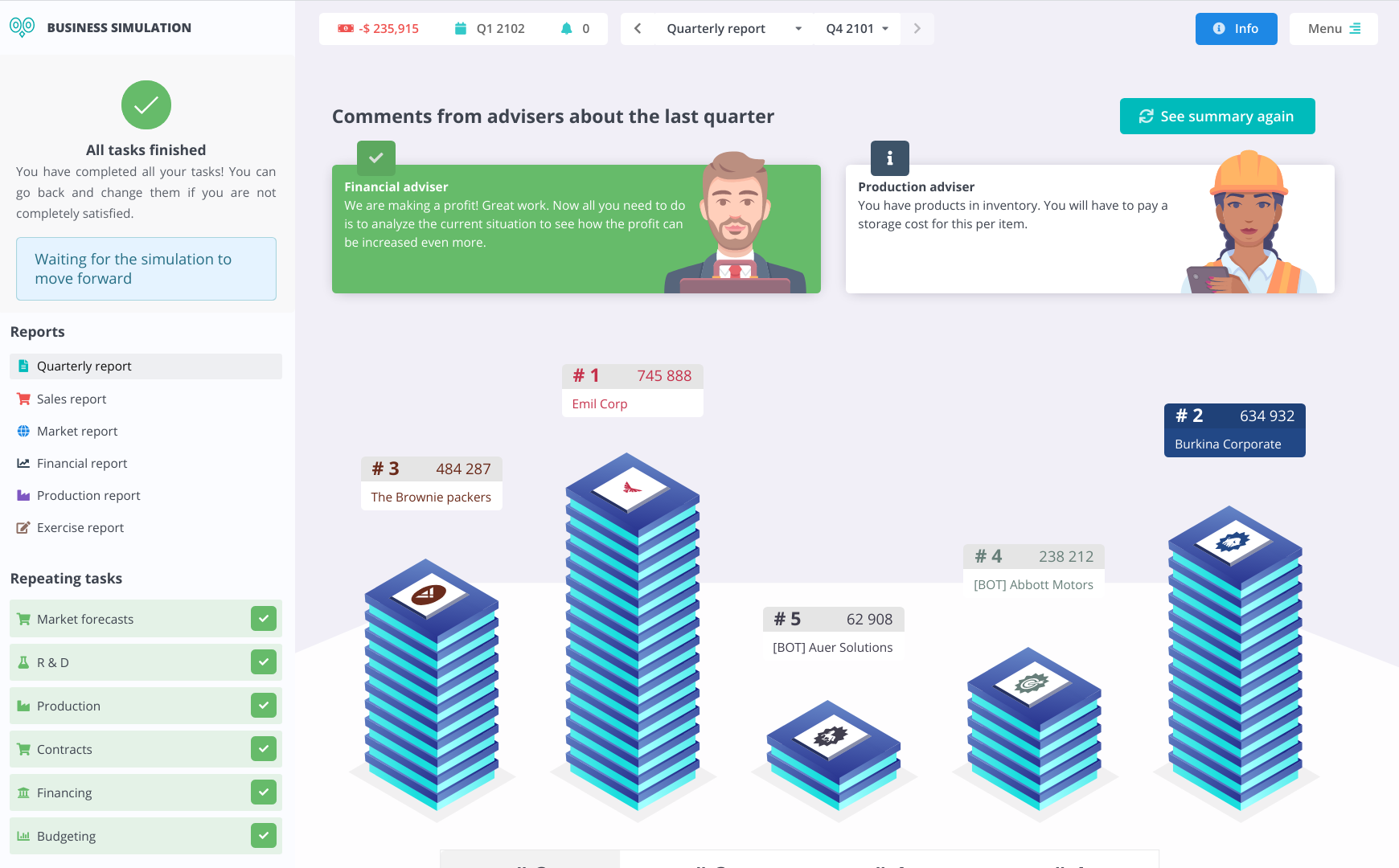 Reflect, review and repeat
Reflection is essential to learn from experience. We therefore enable you to review your actions and process, restart the simulation and improve your results.
4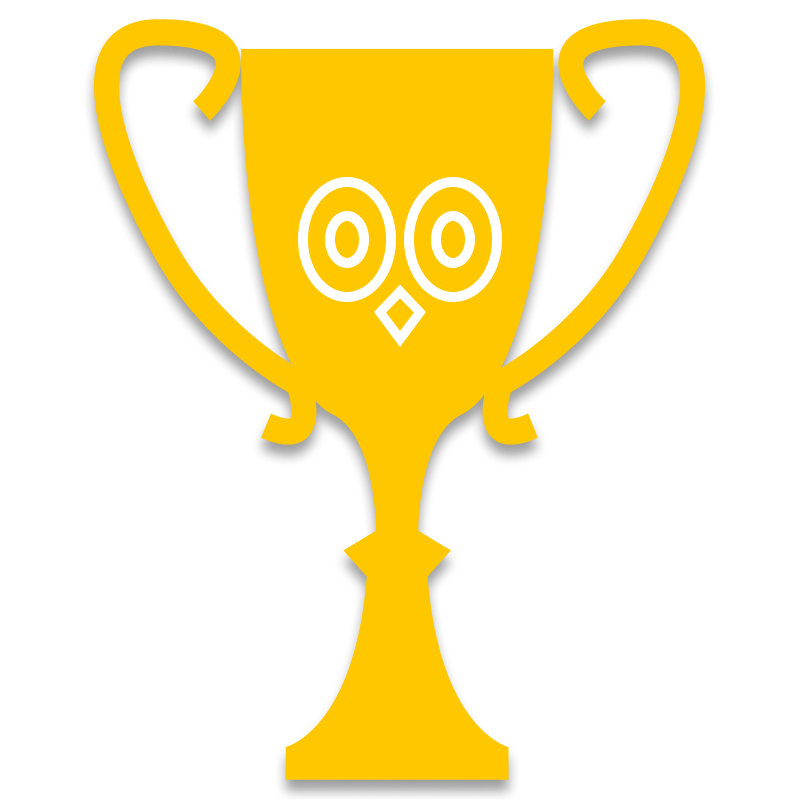 Receive a certificate
For your hard work and new knowledge we offer a special certificate, including your result and the syllabus covered in the simulations. We'll personally send it to you within a week of you completing your first simulation.
Our Online Business Simulations
Choose one of our business simulation games, and learn about all the aspects of running a business.
Business Simulation
Run your own virtual production company, competing against our robots. Manage production, investments, pricing and financing of a virtual company to get hands on experience.
Learning goals
Strategy

Budgeting and accounting

Product calculations

Investments

Decision making

Product mix

Cash flow

Much more
Individual licence
The basic license grants you access to
6 months access to the platform

Running a virtual company with our business simulation

Certification of completion
Marketing Simulation
Analyze the market segments, develop your marketing mix and create a product that fits customer needs. Compete directly with other companies to grab the attention of the customers.
Learning goals
Segmentation

Positioning

Marketing mix

Market strategy

Market analysis

Market planning

Sustainability and ethics

Much more
Individual licence
The basic license grants you access to
6 months access to the platform

Running a virtual company with our business simulation

Certification of completion
Recommended by educators and learners
«Hubro Business Simulations enabled me to practice and develop my understanding of business. Seeing how the marketing mix was interconnected in the marketing simulation was unique. In the same way as I got to practice accounting, finances and operations from the Business Simulation. I would recommend anyone who wants to practice their business skills try the Hubro business simulations»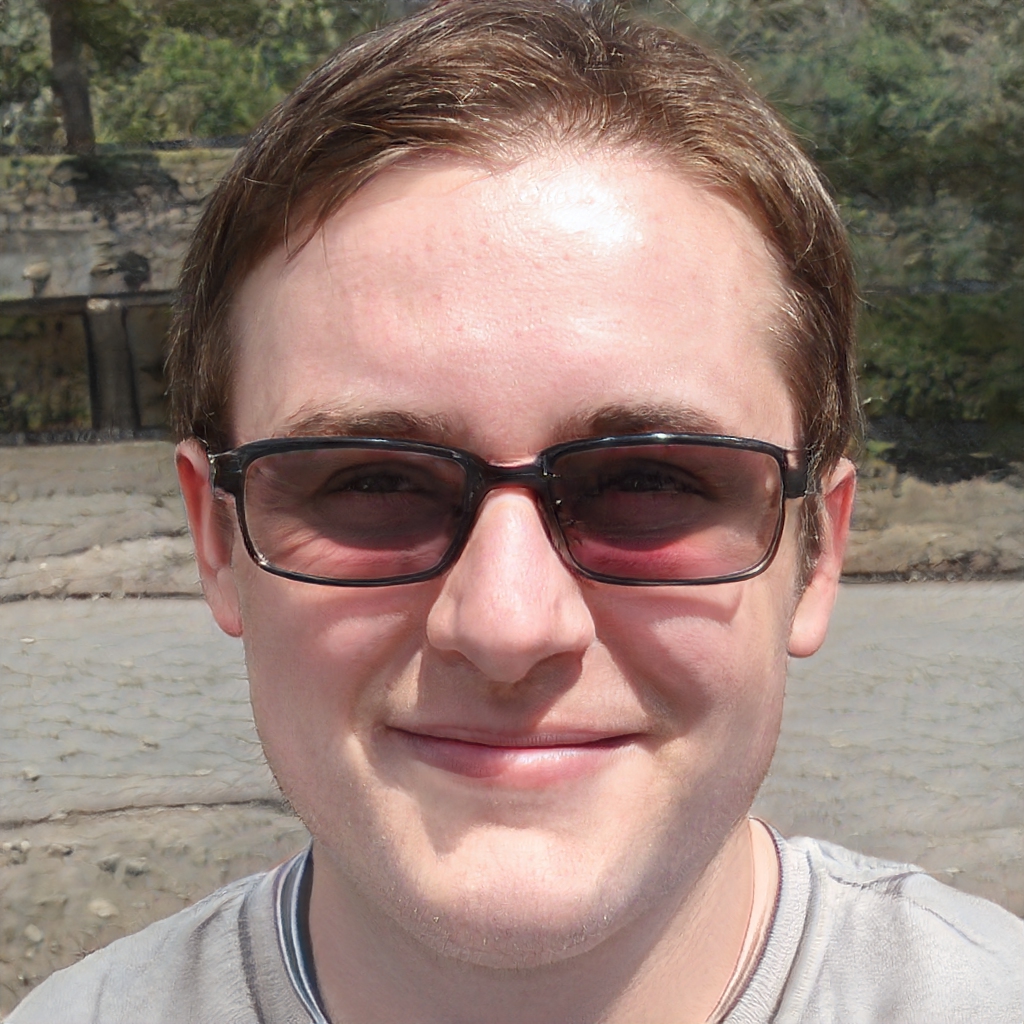 «Hubro Business simulation gave me the opportunity to make real business decisions in a safe environment. In Hubro, I really learned the impact of these decisions, especially within the finance tasks. I really hope we get to use Hubro simulations throughout the year!»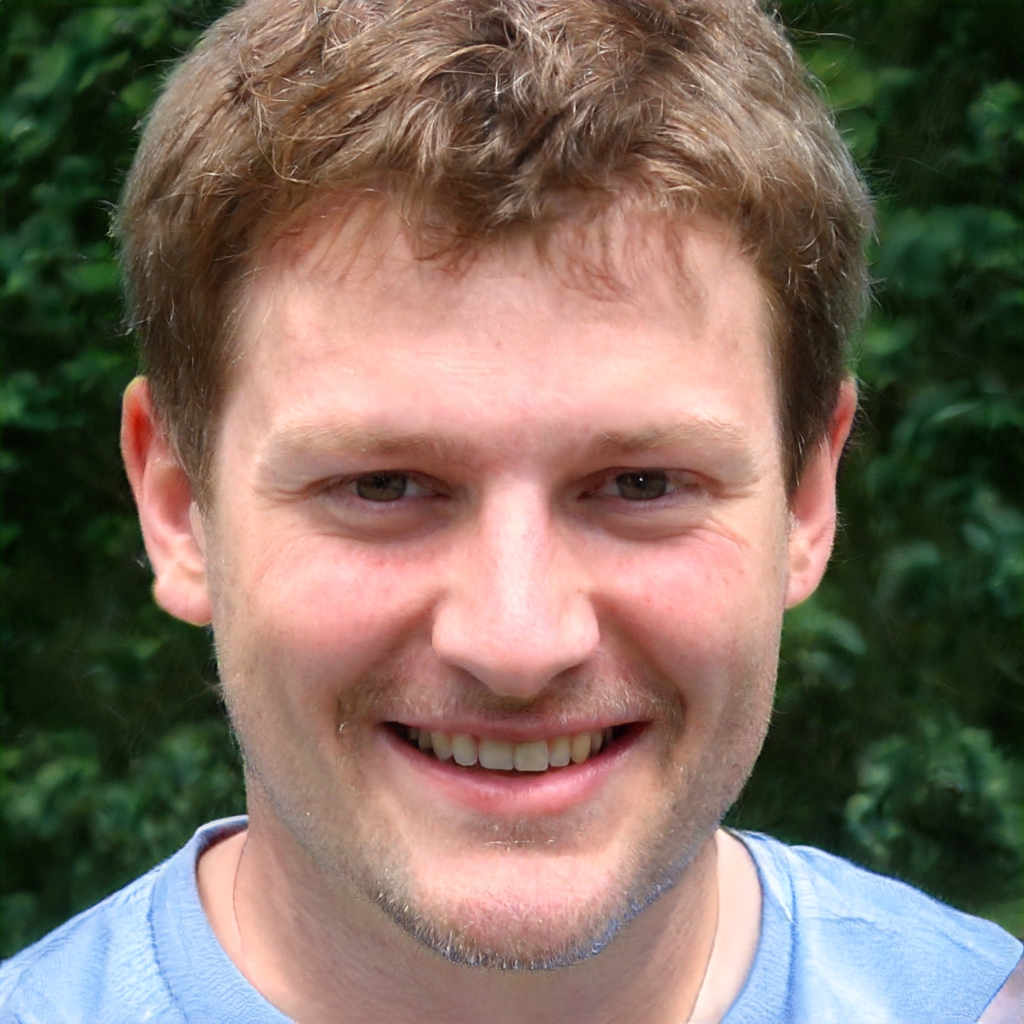 «I would recommend using business simulations to anyone who would want to increase their business knowledge. Hubro's Business Simulations allowed me to really increase my knowledge in all areas of business, and understand the complexities of business interconnections. I could transfer what I learned into my work. It has definitely made me a better manager.»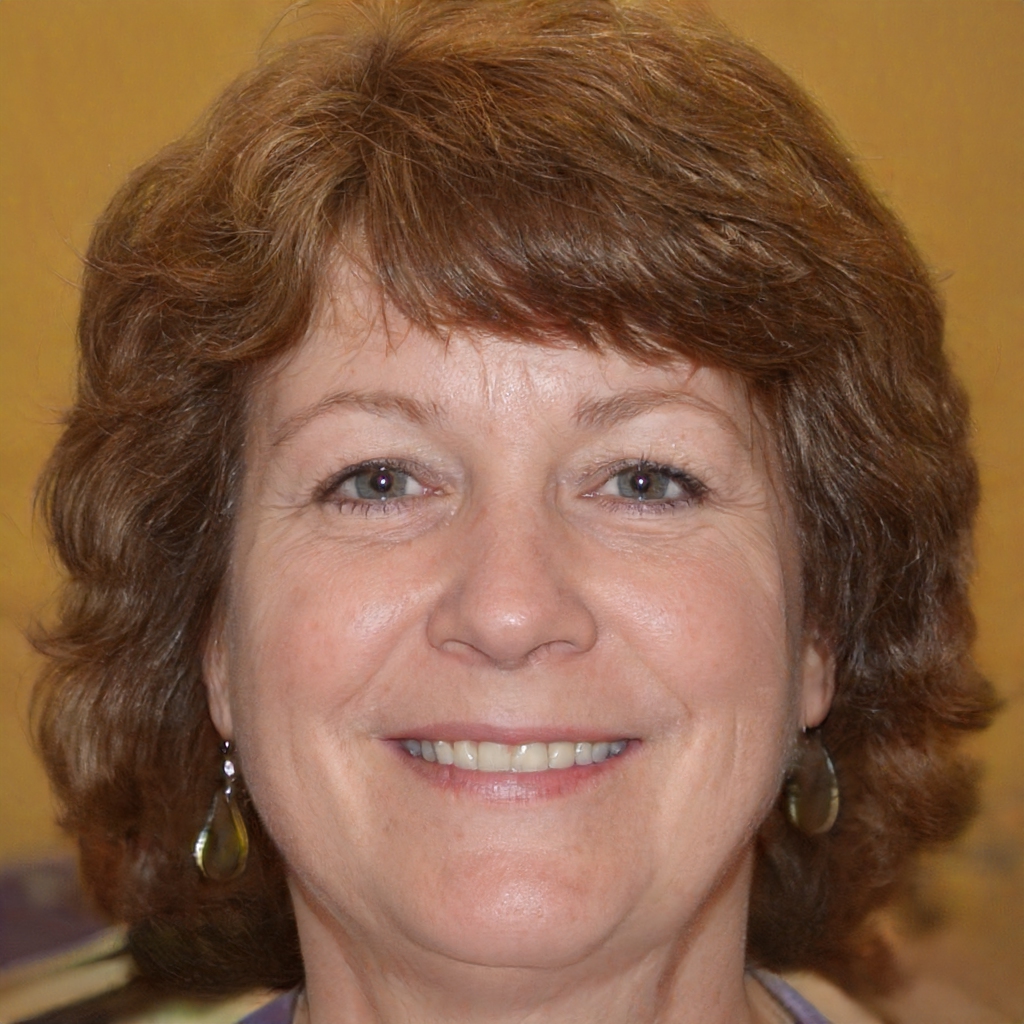 «I was looking into starting my own business, but still being reluctant as I had no prior experience with running a business. Hubro was great in a way that I managed to get basic knowledge on marketing and marketing mix from the marketing simulation, as well as managerial understanding from the business simulation. I would definitely recommend entrepreneurs who feel they lack experience to try the simulation and hit the ground running!»