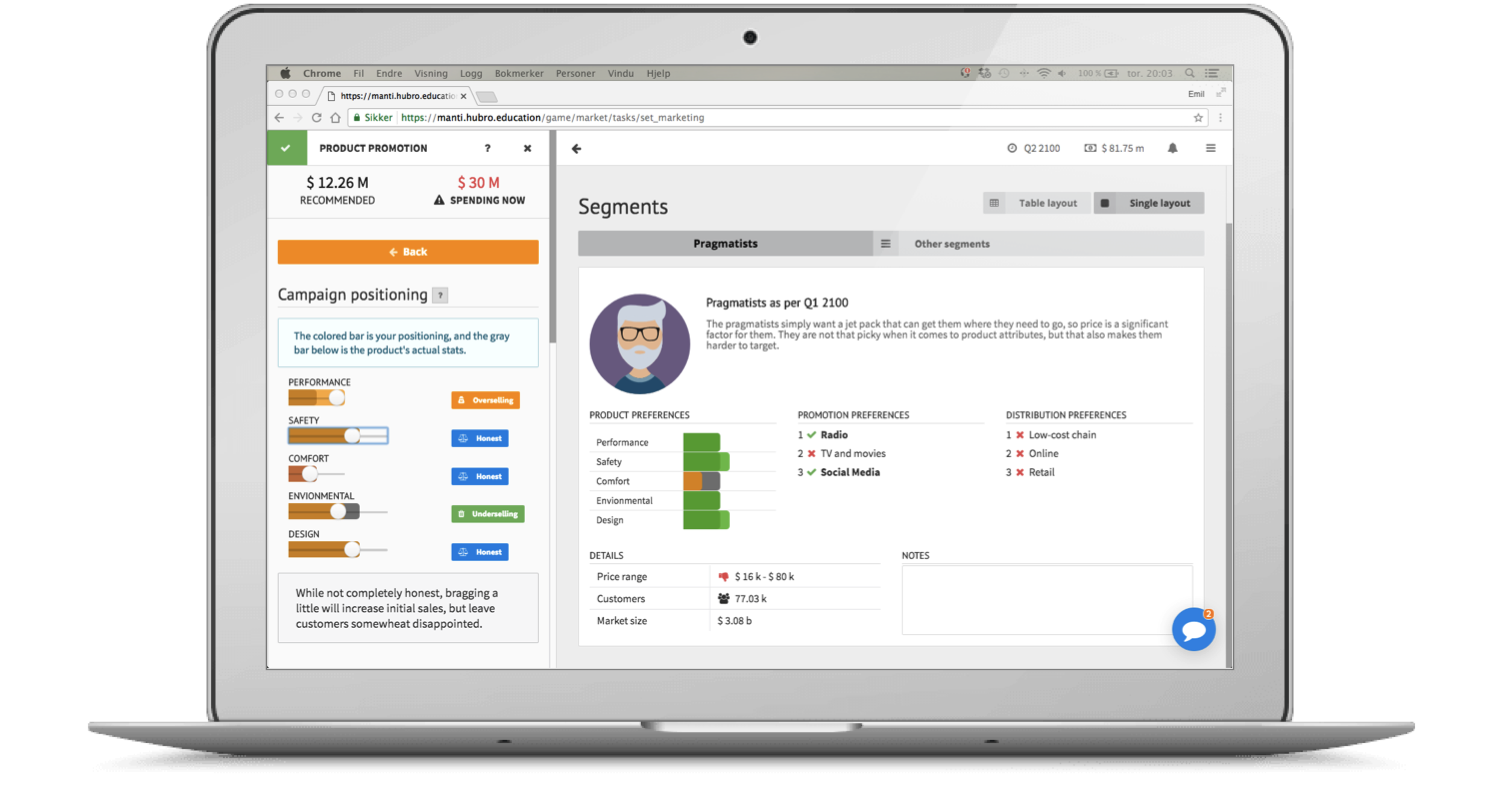 Vellykket test av Hubro Marketing Simulation ved HiOA
Det siste året har Hubro Education utviklet en bedriftsimulator for markedsføringsfag sammen med Høgskolen i Oslo og Akershus. Hubro Marketing Simulation lar brukerne styre virtuelle bedrifter, bruke segmentering og 5P i praksis, og lar dem ta stilling til vanskelige etiske dilemma.
Tirsdag denne uken testet 195 studenter ved høyskolen simulatoren (helt frivillig!). Etter fire timer med testing ga studentene sine tilbakemeldinger. Var det vellykket?
Vi spurte studentene om høyskolen burde bruke simulatoren når den var ferdig; 4 av 5 svarte ja! Det er ikke overraskende når dette er tilbakemeldingene deres:
- Et veldig morsomt spill som på en enkel måte viste mange viktige elementer i prosessen med å bruke de fem P'ene
- Jeg likte spesielt godt alle mulighetene man hadde rundt hvordan vi skulle markedsføre produktet og hvilket segment vi skulle fokusere på
- Det var en veldig bra og spennene måte å lære på. Man får sett det man lærer på forelesning i virkeligheten
Hva skal utvikles fremover?
Studentene ved HiOA skal gjennom enda en pilottest 13. oktober som denne gangen er obligatorisk. Før det skal Hubro-teamet ta tak i alle de konstruktive tilbakemeldinger de fikk fra studentene.
- Det kommer alltid mange nyttige tilbakemeldinger når vi får friske øyne på et nytt produkter, særlig når det er så mange friske øyne, forteller teknisk sjef i Hubro Education Jørgen Foss Eri.
- De fleste tilbakemeldingene dreier seg om små tilpasninger i grensesnittet. Jeg er sikker på at studentene vil være enda mer fornøyde etter neste pilottest!
Vær blant de første til å prøve Hubro Marketing Simulation!
Vi lanserer Hubro Marketing Simulation i januar 2018. Om du vil være blant de første som prøver simulatoren kan du registrere deg nedenfor, så får du info når det nærmer seg lansering.

Explore more of our blog for business education, educational business simulations and remote teaching methods.
Back to the blog