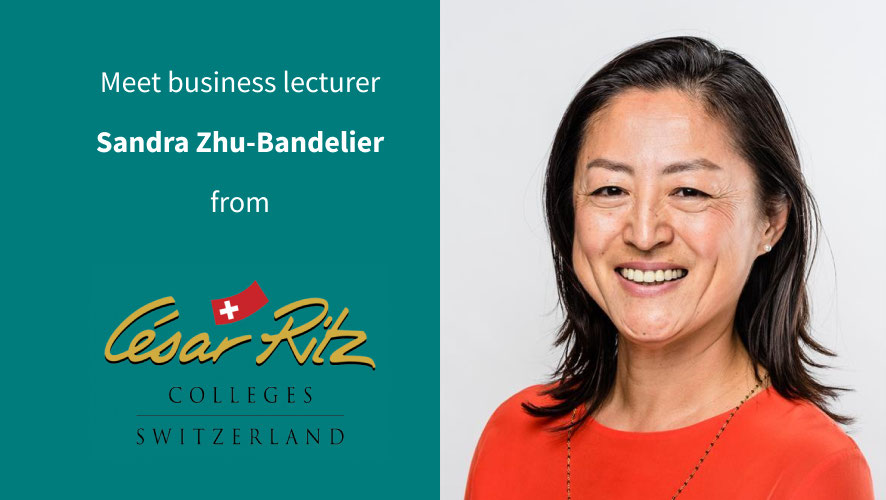 Successfully applying theory with business simulations
Business lecturer Sandra Zhu-Bandelier uses the Hubro Business simulation game to get students understanding and applying fundamental accounting concepts. After searching for a long time to find a simulation game that worked for her course Sandra started using Hubro. Learn why she chose Hubro, and how the business simulation is now an integral part of her course.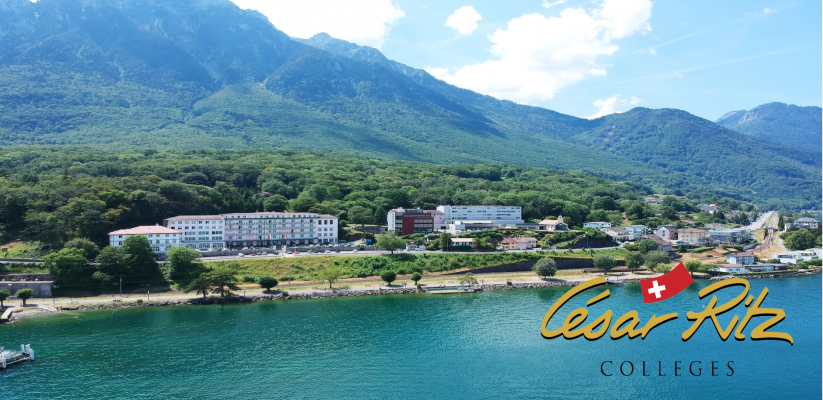 Business management at César Ritz College
Sandra Zhu-Bandelier teaches Business at César Ritz College, Switzerland, one of the world's leading hospitality management colleges.
Sandra has been teaching business management at César Ritz for 14 years. The course has a focus on accounting, and Sandra was looking for a simulation that allowed her students to connect the theory and also give them access to live financial reports.
Finding a business simulation that was the right fit
As with many educators we speak to, Sandra had been looking for a simulation that would be a great match for her course for some time.
I had searched for a long time to find a suitable simulation for my courses. Hubro fits most of what I was looking for. The cloud based simulation rids all the server-based troubles.
Ranked 7th in the hospitality and management college rankings, César Ritz teaches students who will be hospitality professionals and managers of the future. Arming students with a comprehensive understanding of business and accounting is essential to making them career-ready.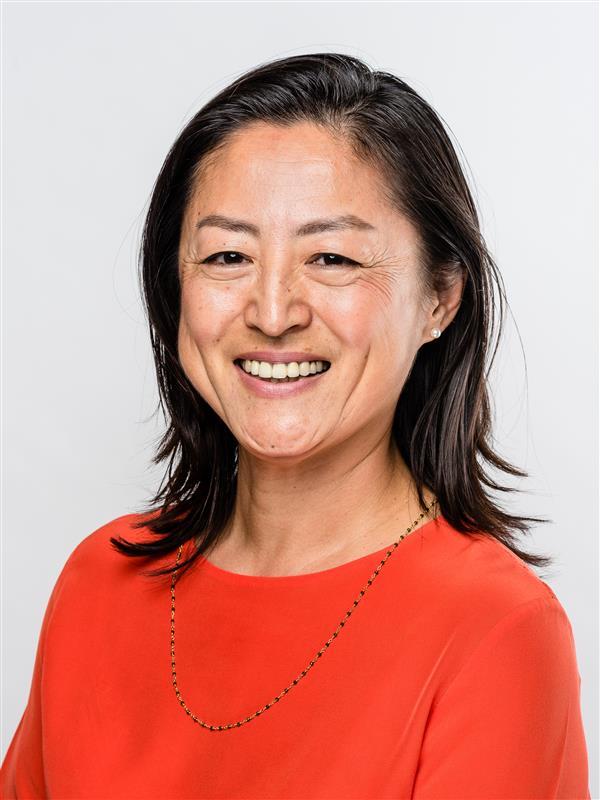 Learning the importance of long-term strategies with Hubro Business
One of the most important skills students must graduate with is an understanding of the real world. César Ritz prepares students for management roles in the hospitality industry which requires a range of skills.
Sandra was impressed with how students could connect their jetpack business in Hubro with the real world. They also learned the importance of preparing strategies and planning for success.
Students make connections between theories and the real world. The simulation gives an overall view of how work should be done progressively to reach success over time.

Integrating the business simulation throughout the course
Many educators are hesitant to add new things into their courses. Particularly when it involves new technology and there may be a blended learning setting.
We always recommend and help to integrate the business simulation to be a key part of the course it's part of.
The more I integrated the simulation into my course, even the exam, the easier it got.

Students understood that it was not just another game to play with as they would need to plan ahead and analyze their performance using the data they created through their 'businesses'.
Want to test Hubro Business?
Customizing Hubro Business simulation to fit the learning goals
Sandra wanted her students to practice working with financial statements and calculations. Hubro's platform allows instructors to customize the Business simulations with additional exercises.
Sandra added in several of these exercises throughout the simulation.
I used all activities included in the simulation and created a few of my own. It was generally run over 2 to 3 years (8 to 12 quarters).

Calculations and analysis were mandatory to show students' understanding of theories and ability to analyze their performances.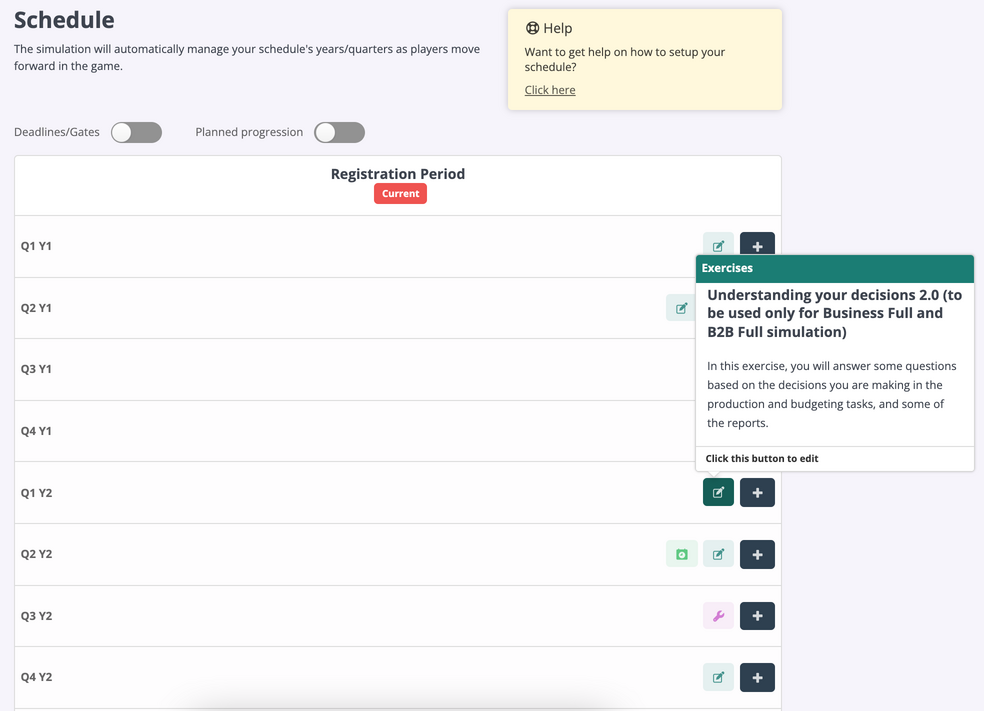 Throughout the business simulation students are issued reports for their companies. These reports are reflective of the decisions they have made for their companies. For the accounting focus of Sandra's business course, the students looked in depth at the financial statements.
With the addition of focused exercises Sandra could assess each student's understanding of the concepts they were covering in class.
A realistic business simulation and great support
This Spring semester will be Sandra's third time using the business simulation in her Business course.
The business simulation has become an integral part of the course. Sandra has seen how well her students are able to apply the theory and concepts to real-life scenarios.
If you want your students to be able to apply theories (what they learned in class with you) in their future jobs, Hubro is the one, I found so far, to make a virtual business environment that is quite close to the real world. And more, the 'jetpack' is in the vocabulary of the e-everything.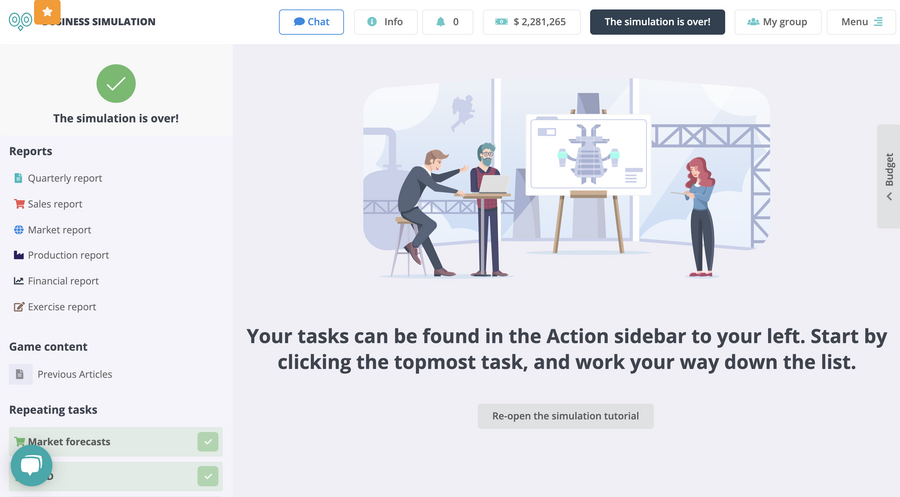 There are even more reasons that Hubro's business simulation is the one Sandra chose for César Ritz.
1. Cloud based makes it accessible anywhere and anytime

2. Prompt support from Hubro team, Ahmer and Esme

3. Designed close to real world business environment, which requires planning before seeing success

4. Exercises are well designed so that students must work hard to get the right answer.
Ranging from the platform design to dedicated support, we are glad that we can provide her and her students with a great learning experience!
Getting started with Hubro Business Simulations
If you're thinking about implementing Hubro business simulations into your course, take Texas A&M professor, Dr. Parish's words for it
Try it!

The ease with which the business simulation runs and the ability to include assignments relevant to course learning outcomes makes it very low risk to try.
To get started with the Hubro Business simulation you can either read more about it here or get in touch below.
Explore more of our blog for business education, educational business simulations and remote teaching methods.
Back to the blog